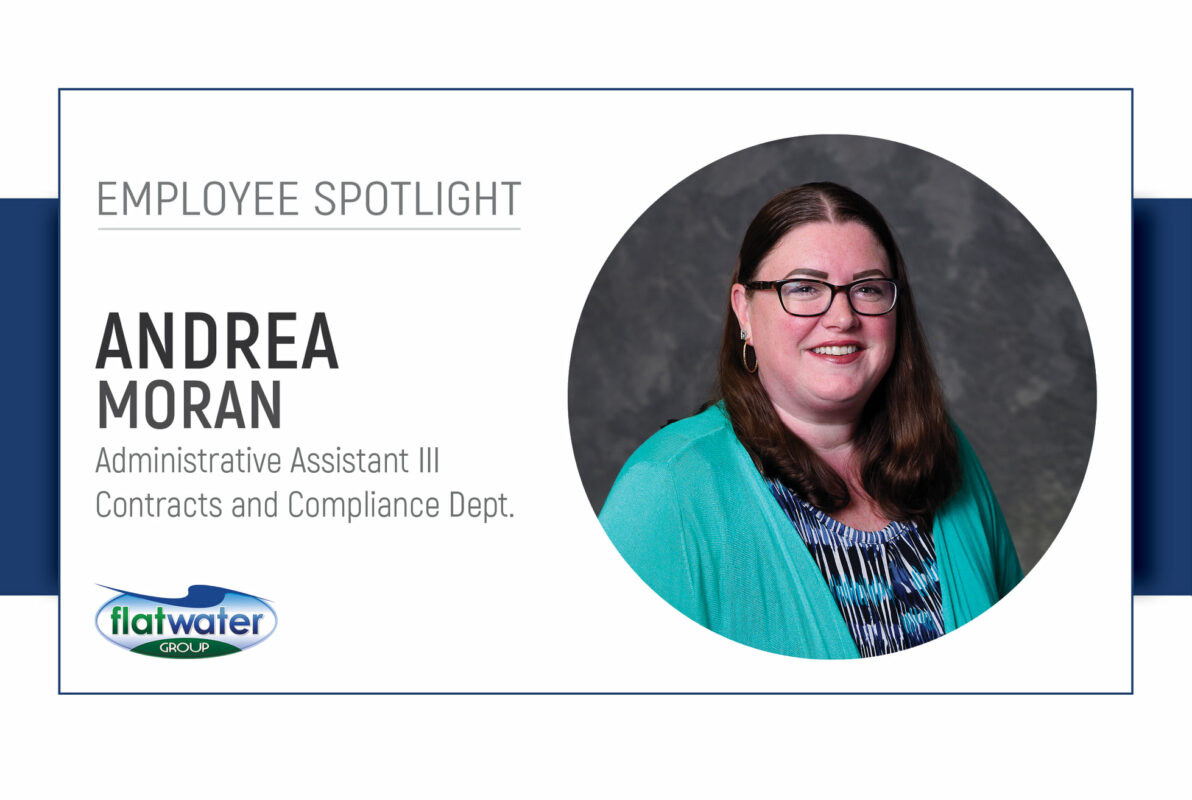 Meet Andrea Moran!

Andrea is the Administrative Assistant III in the Contracts and Compliance Department for Flatwater Group. She performs administrative support duties for the Contracts Department on their government contracts such as quote submittal, tracking of contracts, award notification, and any other administrative support she can help with.

What do you enjoy most about the work you do?

I feel like I am an important piece of the big picture in helping the Winnebago Tribe of Nebraska. Also, I seem to learn something new each day of work due to the ever-changing nature of the job and all the pieces that bring it together.

How long have you been with the company? How have you been able to grow personally and/or professionally since you started?

I have been with the company 6 months and feel like I have grown personally and professionally within the job since I started. On the personal level, it has given me a new sense of fulfillment that I am helping the Tribe and not just working for a big corporation that is only after profit. On a professional level, I have learned so much already and continue to learn new things daily.
What has been one of your favorite projects so far, and why?

I like all of our projects; however, if I had to pick it would probably be assisting with the submittal process of a quote, watching the award come in, and then performing my duties around that. It is a great feeling to know that your hard work is being rewarded and helping the Tribe.

What do you like to do outside of work?

I like to spend time with my family and friends. I believe that is what makes life whole- being around the people you care about as much as possible. I also like to be involved in my community and volunteer with events, etc. whenever I can.

What is something about you that might surprise people?

I have some Cherokee Indian in my blood. My grandmother was mostly Cherokee Indian, and I was so close with her. Being part of a company that is taking care of part of my heritage (even though a different tribe) and reminding me of what a great woman my grandmother was really makes me want to work harder to do my part.

What has surprised you about working for FWG? Or what insights or advice would you give to someone who is thinking about applying to work here or recently started?

What has surprised me is how great the people are and how well this company treats its employees. I always feel valued and part of the team getting the job done. This company really makes me feel like its employees are its biggest asset!

Did you do anything fun this summer?

I had a great summer spending time with family and friends. I enjoy swimming and being in the water, and I was able to do that quite a bit this summer.