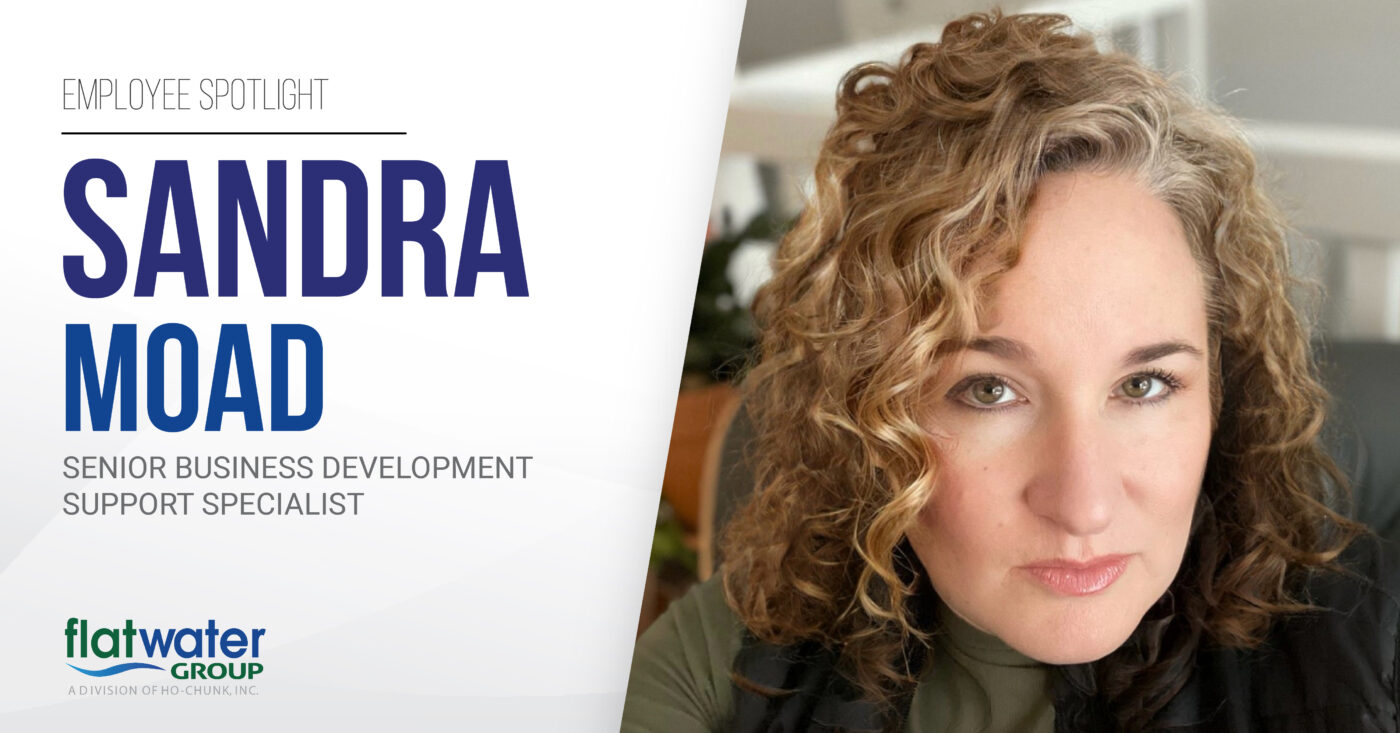 We are thrilled to introduce you to Sandra Moad, our Senior Business Development Support Specialist who has over 20 years of experience in the design and furniture world with a focus on government projects and GSA contract administration.
Sandra's expertise has proven invaluable to our business development team as she reviews bids, specifications, and works with different manufacturers, dealerships, and clients to achieve the best possible outcome on every project.
What do you enjoy most about the work you do?
The people. I most enjoy the people I work with, both internally and externally.
How long have you been with the company, in years? How have you been able to grow professionally since you started?
I have been with Flatwater for 5 months. I am learning new ways of doing government business and what it means to be a part of a tribally-owned, 8(a) certified company and how that is a benefit to those who we are doing business with. Learning the details behind it is fascinating to me!
What has been one of your favorite projects so far, and why?
My favorite project so far is a hotel we are working on in Arizona. The project has been challenging, but I love participating in the design process, meeting with the client and watching how everything is developed. I'm excited to see it completed.
What do you like to do outside of work?
I am an avid gardener and am looking forward to doubling the size of my garden this year. I have taught myself about canning and preserving the foods I grow. 
I also love to kayak. We are fortunate to have moved near a lake where I can take the kayaks out and be on the lake quickly.
What is something about you that might surprise people?
People may not realize that I spent a majority of my childhood in Louisiana and that my mom taught me how to cook many of the Cajun classics. I am well-versed in how to throw a cast net to catch shrimp and crabs on the bayous in South Louisiana.
What advice would you give to someone who is thinking about applying to work at Flatwater Group?
My advice to anyone looking at Flatwater Group is to research the whole company and learn our backstory. The story of Ho-Chunk, Inc. is an inspiration and I am excited about what we are doing and why we are doing it.
What is the most meaningful part of your job?
The most meaningful part of my job is knowing that what I am doing is ultimately for the betterment of Winnebago Tribe.