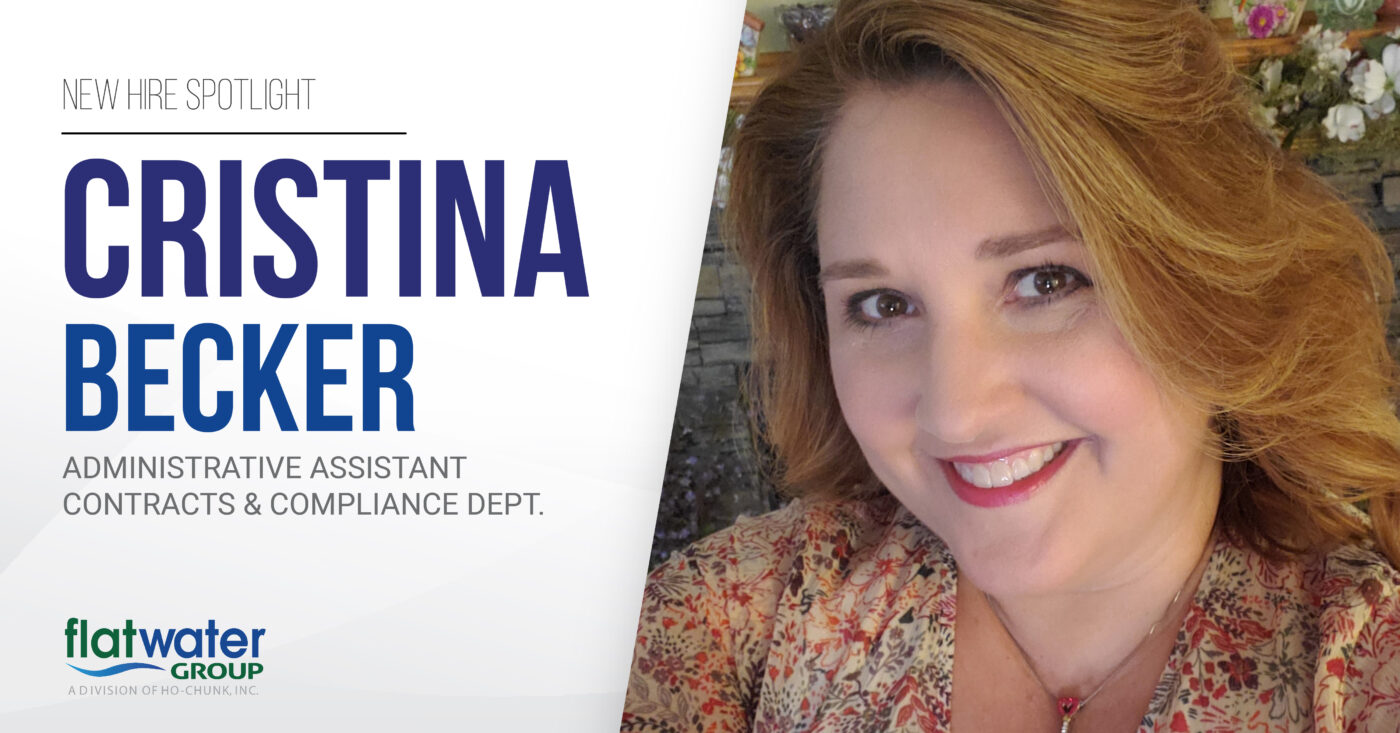 Meet Cristina! 👋
Cristina Becker was recently hired for an Administrative Assistant role within our Contracts and Compliance Department at the Bellevue office.
What attracted you to Flatwater Group? What do you hope to achieve in your role here?
After hearing of the open role, I researched the company. As I learned the history and positive contributions the founders and company made towards the betterment of the Tribe and their community, I knew this company was for me. Thankfully, I joined a great team and I want to continually grow in the role and help my teammates. Together, I want to help the company and our partners continue to build a brighter future for all.
Walk us through your previous work experience and how it has prepared you for this role.
My background is diverse. I have held various technology-centric and key administrative roles. Prior to Ho-Chunk, Inc., I was serving as an Executive Administrative Assistant for a property management organization where I worked closely with legal and government agencies to resolve disputes, compiled a host of reporting metrics, guided residents through the pandemic rental relief process which brought in over $8M dollars to cover outstanding rent balances.
What are some of your immediate goals in your new position?
My short-term goals are to get to know the organizations team players and continue to learn the ins-and-outs associated with contracts and compliance. Eventually, I would like to be a vital contributor, well-versed in the understanding, knowledge, and requirements of our internal and external customers.
How would you describe your working style?
I feel it is important to be professional, but to also have fun in the process. I am a person who likes organization, prioritization, and open and honest communication; however, I can adjust to rapidly changing priorities.
How do you plan to contribute to the growth and success of our team and the company as a whole?
As I grow in my positional knowledge and needs of the company, I will be better equipped to provide insight and assist wherever needed.
What advice do you have for someone who is just starting out in this industry or looking to join our company?
I find it is helpful to be patient, ask questions, and listen to experienced teammates when they provide suggestions. As my manager tells me regularly (regarding learning the role), "It's not a sprint, it's a marathon." It may take time, but eventually you will get there. Be patient and give yourself a little grace.
What inspires you to succeed every day?
Knowing I am living up to the best of my ability which in turn helps the company and my family. It makes me feel proud of who I am.
How do you spend your spare time?
Attending live theater events, concerts, and other stage performances are some of my favorite things to do. I am also a fan of sharing time with family, traveling, spending time outdoors (when the weather is nice), gardening, interior decorating, crafting, and yes – singing karaoke.