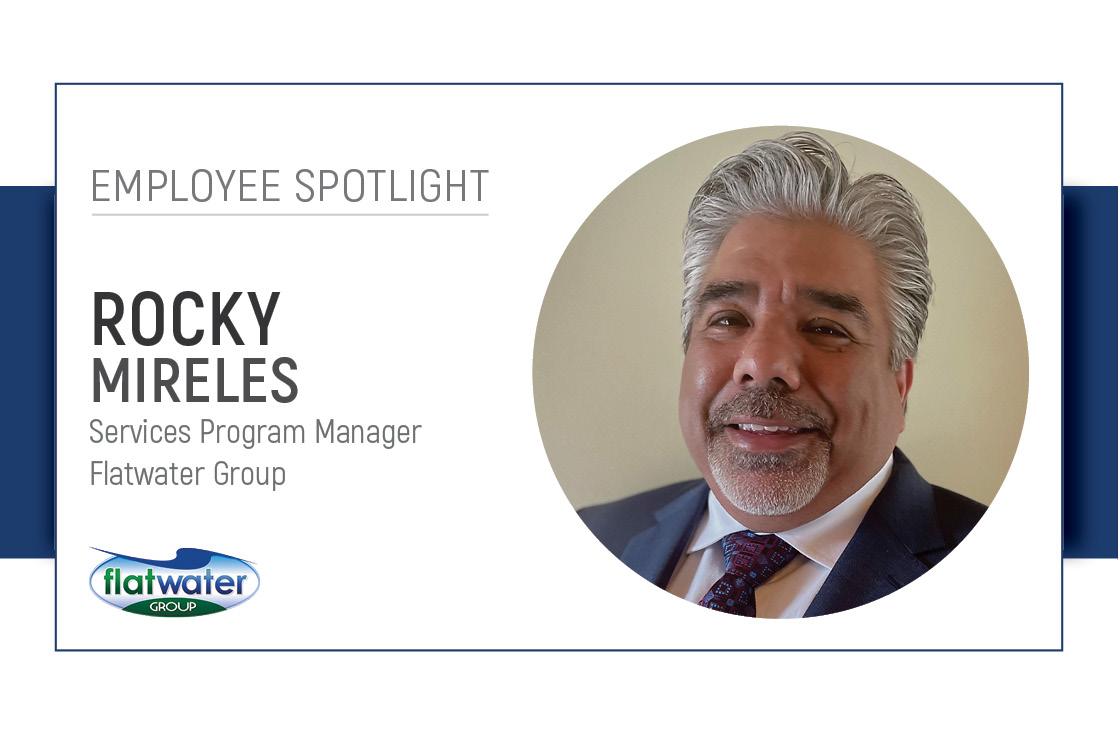 Meet Rocky Mireles!
After retiring from the U.S. Air Force, Rocky started his decade-long on and off journey with Flatwater Group. He was recently promoted to Services Program Manager and part of his duties include overall execution of all assigned service contracts.
"I like a challenge," Rocky said of his new role.
Going from the military to government contracting presented Rocky with a bit of learning curve.
"Not everything is black and white," he said. "I retired from the military where most things are pretty cut and dry. Professionally, I knew very little about sales, pursuing and closing government contracts and now, now I feel I can hold my own."
Rocky started off in market development for All Native Solutions — a Flatwater Group subsidiary — and noted it was a pivotal experience for him during his career transition.
"I was literally picking up the phone cold calling on fed-bid opportunities," Rocky said. "It is my favorite because it was up to me to be successful. Picking up the phone and calling for business opportunities was scary, made me anxious, and I lost sleep over it. But what I learned about business and people was vital to me growing and the confidence it gave me was huge. I would do it all again."
One thing that impressed Rocky about joining Flatwater Group was how talented his new co-workers were.
"I work with a lot of professionals at FWG that are truly dedicated to giving their best, that surprised me coming from the military and hearing all the negative stories about working with civilians," he said. But I feel very fortunate to be amongst them and although the sacrifice is different the dedication to completing the mission is still there."
Outside of work, Rocky likes to read, listen to music, spend time with his family, host gatherings — barbecues, birthday parties, dinners, etc. — and mentor others as a way to give back.
What is something about you that might surprise people?
I want to do standup comedy someday. Just kidding, no I am not kidding.
What are you looking forward to this summer?
Traveling to see my family in Indiana now that the pandemic is more under control.

Who is someone that has inspired you and what was it about them you found inspirational?
Who is someone that inspired me? Harriet Tubman every day of the week and twice on Sunday. She not only escaped slavery and helped others escape, as if that were not enough. She served as a nurse, scout, spy, and guerrilla soldier for the Union Army during the Civil War. Her life said to me, anything is possible.