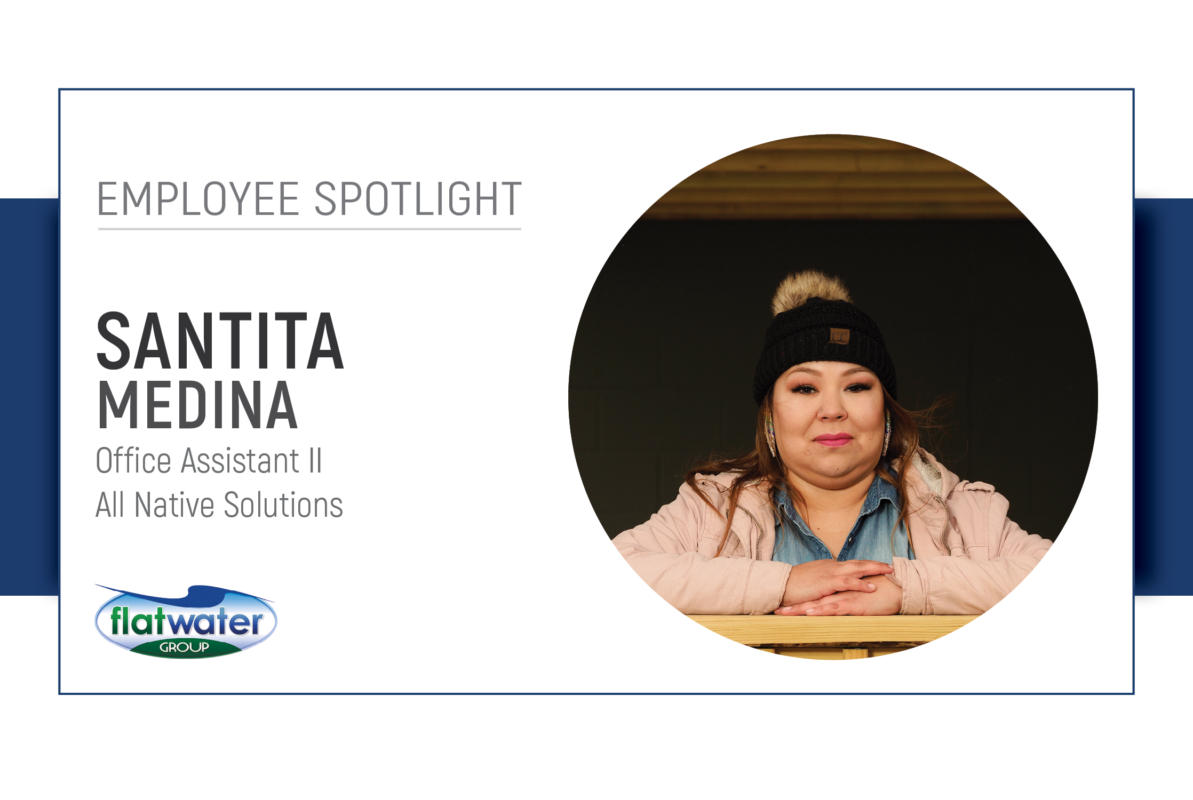 Meet Santita Medina! Santita is an Office Assistant II in the All Native Solutions (ANS) department. Santita is approaching 5 years with the company! She provides courteous customer service, gathers information to determine customer needs and expectations and suggests suitable solutions and alternatives to ensure satisfaction of the customer. She also services all ANS accounts, including inquiries, quotes, orders and assists in accounts receivable duties.
What do you enjoy most about the work you do?
I enjoy interacting with various customers and different Native American tribes throughout Indian Country. I have a lot of good working relationships with our loyal customers and continuously receive their business.
How have you been able to grow personally and/or professionally since you started at Flatwater Group?
I started out as an Office Assistant. I have been strongly encouraged to attend school and my boss has been supportive. I believe it will be beneficial for my future with Flatwater Group as I am strongly in support of our mission statement and core values of the company. As a Winnebago Tribal Member, it gives me great satisfaction and encouragement as well.
What do you like to do outside of work?
I am a single mother to three children. I currently work and go to school full-time. My free time consists of homework, spending time with my children and family and watching my favorite shows and movies.
What insights or advice would you give to someone who is thinking about applying to work at Flatwater Group?
Working with such great coworkers who are encouraging and working for a company that provides opportunities for growth has inspired me to enroll back into school full-time studying Business Management and Accounting. I enjoy coming to work and I love my team!
What has been one of your favorite projects so far, and why?
This pandemic has driven me to make sure I meet customer satisfaction for all my clientele across Indian Country. It is my pleasure to assist Indian Health Services among other organizations across the nation with their personal protective equipment (PPE) supplies.
What has working through the pandemic taught you?
I enjoy being able to work remotely from home, however, I miss seeing all of my coworkers… and having our awesome potlucks!
What is your favorite part about holidays?
My favorite part about the holidays is being surrounded by family. Together we enjoy doing arts and crafts, playing games, watching holiday movies and eating delicious meals and baked goods.