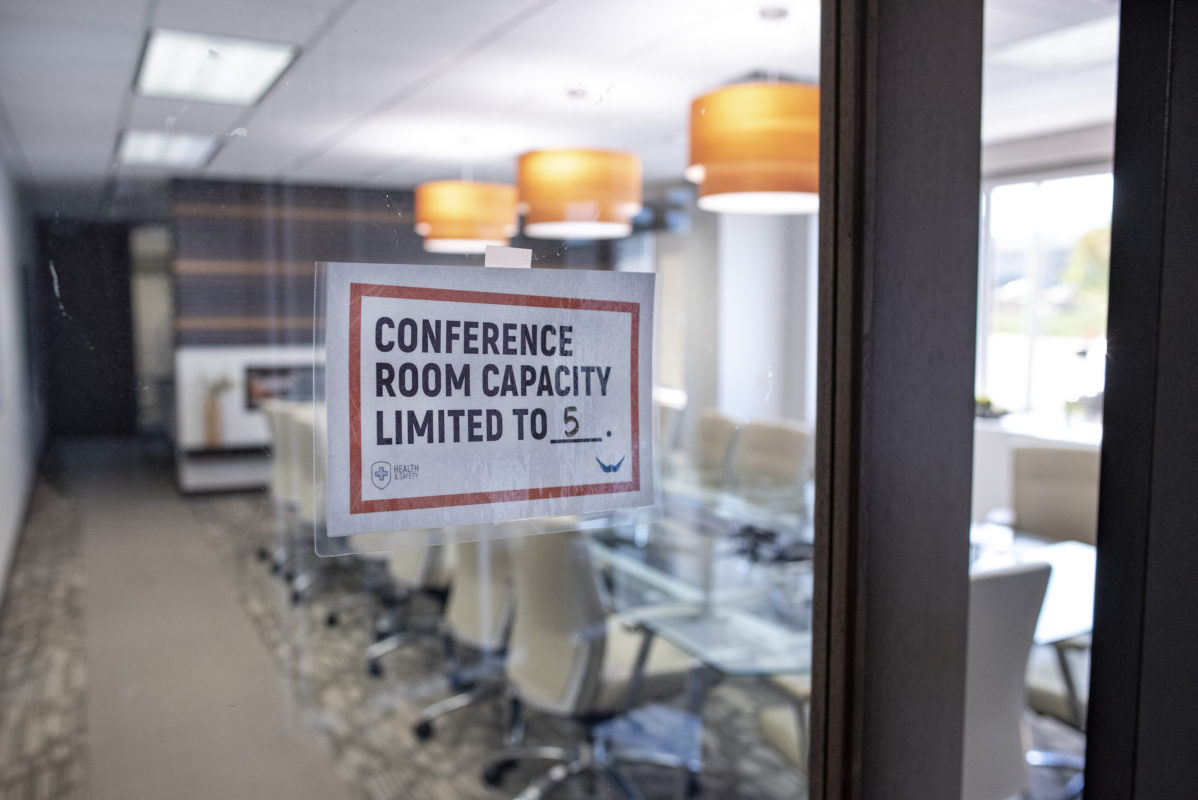 As more employees return to worksites, employers can help facilitate positive changes in workplace safety and employee morale.
Three short-term strategies can help immediately and become the foundation of longer-term thinking about the future of workplace safety, says Peter Tracey, Senior Business Development Manager for All Native Solutions, a division of Flatwater Group.
"This is a unique opportunity. Many organizations rapidly adapted safety protocols this year in reaction to COVID-19. Now we're looking ahead to 2021, and asking proactively: 'what's the new standard'"?
Flatwater Group has established expertise in the furniture industry, and that goes beyond the physical furnishings.
"You have to think about people first," Tracey says. "Behavioral change is the most critical factor in maintaining a healthy work environment."
Here are three short-term strategies to consider implementing now and in your 2021 organizational plans.
Physical Spaces
Reduce in-person interaction – Take time to evaluate office and workplace foot traffic patterns around the location. Where do people tend to cross paths or congregate? Are the ways employees and guests use meeting rooms, reception and break areas still appropriate? If not, can these activities be relocated or dispersed within your worksite to minimize physical interaction?
Limit or stop desk sharing – Consider ways to create additional workstations so each employee has an individual space. Create a floor plan map of all your spaces and their proximity. Use this to help inform your expanded telework and hybrid scheduling decisions to prevent workplace crowding.
Implement a desk cleaning routine – Providing cleaning supplies and encouraging regular workspace cleaning both helps employees feel safer in addition to reducing surface clutter, which can help if your worksite needs a disinfecting fogging treatment.
Design and Environmental
Consider physical barriers where distancing may be difficult. Walk through your workplace as if you were an employee, guest or customer. Identify places where close physical distance has commonly happened, such as reception desks.
Sanitize regularly. Many businesses touted their deep cleaning and other precautions earlier this year, but have those routines continued or become lax?
Use disinfectants. Ensure personal safety and cleaning supplies been made available to employees for use at their workspace, and employees know where to get additional supplies as needed.
Administrative
Redistribute responsibilities to reduce employee contact. Take a look at how many employees had typically been working in a setting. Can this work be scheduled differently, or tasks delegated in new ways to reduce physical interaction?
Use technology to facilitate communication. Encourage virtual meetings whenever possible, even if participants work in the same building but are joining individual from their own desks.
Implement flexible meeting options, such as outdoor meeting spaces (as weather allows), and hybrid meetings with a limited number of participants at any one physical location.
Evaluating and implementing these short-term strategies can help you better define safe and happy workplaces for long-term success in your 2021 business planning.
The experts across Flatwater Group companies will continue to share actionable information at this blog. Please comment how you've implemented changes at your workplace.

Sources: Embracing a New Reality: Workplace strategy insights for COVID-19 and beyond. Herman Miller